MiFID - the Markets in Financial Instruments Directive
Sarbanes Oxley; Basel 2. Both huge budgetary issues for the CIO and the Compliance Officer, and, as the Compliance and Privacy poll says are important to all but 24% of the respondents here:
"How Important are These for Your Business?"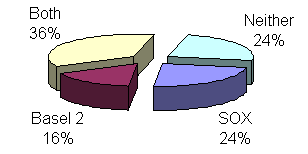 And emerging alongside these is the MiFID, which, if the European Parliament has its way, will be delivered inside two years. And this régime has swingeing penalties for failure to conform and will dwarf the budgetary impact of SOX and Basel 2 put together
"If you want to be one of the winners, start managing IT as if you need to be personally accountable for everything that enables your firm to make money," said P J Di Giammarino, co-chair of the MiFID IT Working Group, in a major article in Computer Weekly on 22 November 2005. and he cited the consequences of failure to conform. Being sued is the least of the worries, because the evolving European regulation carries the threat of jail for anyone held accountable for serious mismanagement.
MiFID is a major change to financial markets. It introduces a single European securities market for all financial instruments. And that means that CIOs are facing huge changes. And MiFID has 73 articles to understand, embrace, comply with and implement systems for. It requires properly documented processes for organisational structures, controls, business continuity plans and reporting lines, and these documents must be available to relevant interested parties. Best Practice is becoming mandatory, and this is being spread across all business silos.
According to Chris Skinner of Towergroup only a very few banks are planning for MiFID by introducing the necessary flexible and service oriented architectures. He went on to say that the CIOs of investment banks could face a current bill of £13m each. This is a huge burden, effectively the price of contuinuing to trade, and tghere are human resources costs, too.
Immediate effects are also likely to be a staffing headache, with expert staff being courted by many potential employer and a need to backfill as staff move. this will spread to more than the directly MiFID affected organisations. Non specialist staff in well ordered corporations, even those not in the finance sector will be in demand to fill the seats of those who move on. MiFID is as big a change as the deregulation of the financial markets was at the end of the 20th century
Read on for a TowerGroup analysis