IBM's acquisition of ISS supports convergence theories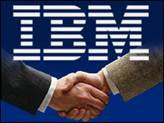 Everybody was chanting "convergence" when Symantec joined forces with Veritas and then again when EMC united with RSA. IBM's gobbling up of Internet Security Systems (ISS) last week almost appears to be a self-fulfilling prophecy. ISS is a leader in network security and managed security products, of which MSS accounts for 20-25% of its total revenue.
IBM's $1.3 billion acquisition clearly confirms that the security industry has grown to a point where its markets are attractive enough to large corporations scouting for new opportunities. After five years of diligently scoping the managed security space and missing out on Riptech and Guardent (bought by Symantec and VeriSign, respectively), IBM has finally gotten its prime catch. Through the help of increased awareness and regulatory requirements, other security markets continue to be a major target for further acquisition bids. Fearless forecasts have been flying around that McAfee will be next in line given its solid brand name, technology and customer base. Other stand-alone providers like Check Point, Websense, and SonicWALL are also rumored to be in the radars of broad solution providers or even larger security firms.
While IBM has historically been successful at integrating acquisitions, having four straight buys (Webify, MRO Software and FileNet) in such a short span of time will still prove to be a challenge. Reconciling the corporate cultures and aligning the technologies can be cumbersome for IBM and will provide a short-term opportunity for VeriSign to aggressively snag ISS's current customer base. In the long-term, ISS's business will probably be drowned in the grander scheme of IBM's operations. Customers who may prefer a pure-play security provider than a jack of all trades may start thinking twice. VeriSign's strategic focus on security can be the perfect lure for these clients to cross the fence.
Additional reading: