Cisco further blurs technology lines with video purchase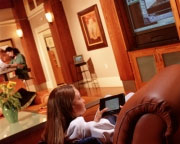 Cisco is slowly but surely moving from the server rooms to the living rooms with its latest gem: Arroyo Video, a software company which manages video-on-demand (VOD) services. Late last year, Cisco made a bold move by shelling out $6.9 billion to purchase Scientific-Atlanta (S-A) – the other half of the set-top box duopoly (with Motorola). These two investments and other incidental purchases along the way aim to fortify Cisco's position in the digital home.
The latest shopping spree of the equipment maker indicates a decreased focus on enterprise customers and extra attention on capturing end users/consumers. Once concentrating only on high-end and high-margin equipment for corporations and telcos, Cisco showed a shift in strategy by acquiring Linksys and directly selling routers for consumers at lower margins but higher sales. By going beyond its standard offerings and delivering voice communications and entertainment to households, Cisco wants to show the Street that its business prospects are not stagnating. By entering the VOD space, Cisco is pitting itself against telephone companies and cable providers, who are all racing to roll out a complete bundle of "triple-play" services.
Not too far away is VeriSign, whose acquisitions will also allow it to offer its own flavor of bundled entertainment, communication and online services. While Cisco and VeriSign have the same end goals of delivering on-demand information (and videos), the implementation and delivery will differ significantly. For one, Cisco will be betting on its strong partnership with cable companies to deliver content through set-top boxes while VeriSign will be leveraging alliances with carriers and entertainment companies to push content. As telcos, cable providers, Cisco and VeriSign scramble to get ahead, it is imperative to know that betting on the right partners will be critical in determining who wins this race.
Additional reading: