APACS Research reveals people to be unaware of basic security measures when banking online
Research released on 22 September 2006 from APACS, the UK payments association working on behalf of the banking industry, shows that people are still not aware of best practice when it comes to online banking and security. The findings clearly demonstrate that some online banking users are failing to protect themselves, despite widely available advice on how to do so.
The latest study builds on the findings of research carried out in 2004 and shows that people are still unaware of the basic security measures they should have in place to stay safe online. Although internet users are aware of scams such as 'phishing' and Trojan attacks, they are still overly complacent. They need to do more themselves to understand the risks and find out what they can do to protect themselves and their computers.
Of the 15.7 million people who regularly use the internet to access their current, savings and credit card accounts:
3.8% (an estimated half a million people) said they would still respond to an unsolicited email asking them to follow a link and re-enter personal security details, supposedly from their bank, unwittingly giving fraudsters access to their account (this is slightly down from 4% in 2004). Whilst it's encouraging that more people than before are likely to check an email's validity with their bank before responding (39% in 2006 compared to 28% in 2004), only half of people ignore these emails compared to 65% in 2004.
Less than half (46.3%) regularly update their anti-virus software, with only 1 in 10 people having anti-spam software installed and about a third having a firewall.
Just over one third (35%) record their password or security information by either writing it down or storing it somewhere on their computer.
62.5% (nearly two thirds) never change their password and 1 in 5 use the same password for non-banking websites as well as their online bank.
Older users are the worst culprits when it comes to keeping security details private. Nearly 70% of older people never change their password and only half of over 55 year olds memorise their password without writing it down compared to 73% of 18-24 year olds.
Those who are divorced, separated or widowed are more cautious in their attitude to unsolicited emails supposedly from their bank. They are less likely to ignore them and more likely to contact their bank to check whether an email is genuine, compared to both single and married people.
Under 24 year olds are more susceptible to scam or 'phishing' emails that are apparently from their banks. Over 12% of them would click on the link and divulge account details and security information – three times higher than the national average.
The number of separate phishing attacks has risen dramatically over the past year, increasing by over 800% in the twelve months from August '05 to August '06, with a peak figure of 1,484 incidents last month. The surge in phishing attacks is mainly due to banks and internet companies getting better at quickly identifying and closing down phishing sites, which has meant fraudsters have naturally increased the number of attacks. Phishing is the name given to the practice of fraudsters sending out emails that pretend to be from a bank or a genuine company operating on the internet. These emails urge the recipient to click on a link to a website that may look very much like their bank's. Typically victims are then asked to validate their personal security information by re-entering the details, thereby providing the fraudster with access to accounts and their contents.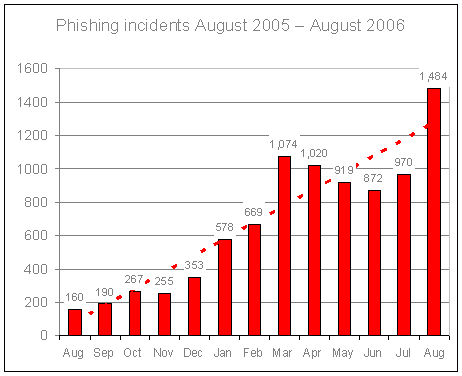 These figures are collated by APACS. The trendline (dotted) has been superimposed by Compliance and Privacy, and rises at a worrying rate
Around 16 million adults regularly use the internet to view their account balances and statements or make payments within current, savings or credit card accounts. Internet banking is most popular with 25-34 year olds with two thirds of internet surfers of this age using this service. About 8 in 10 people who access their current account online do so regularly - at least once a week. Many people do so from more than one computer as over a quarter do their online banking at work as well as at home.
Sandra Quinn, director of corporate communications, comments:
"The internet has totally changed the way we shop and bank, and it's very safe provided you remember two simple rules: use a secure PC and be wary of unsolicited emails. This new research shows that some people still aren't doing all they should to protect themselves which, hand in hand with a large increase in phishing email attacks at the start of the year, leads us to expect an increase in online banking fraud losses in the first half of 2006*.
"Clearly it's a concern that so many internet users are still not aware of simple security advice. Everyone needs to do all they can to make life as hard as possible for fraudsters. For comprehensive guidance on how to protect your accounts and your computer, visit our websites www.banksafeonline.org.uk and www.cardwatch.org.uk ."
Other articles on eBanking and Security:
These are just a selection of the articles. The lack of customer "savvy" with the security methods deployed so far and the vulnerability to phishing makes HSBC's stance on (against?) two factor authentication even more bizarre.