| | |
| --- | --- |
| | in this issue: |
Dear Visitor,

Welcome back from the Easter break. While you're checking your diary we thought you'd want to make a space for Infosec 2006, in London.

This is a special edition, inviting you to visit our sponsor, VeriSign's, stand at Infosec 2006 next week, Europe's number one dedicated Security Event

We're also taking the opportunity to show you the first of a number of influential bloggers we'll be showcasing over the next few weeks and month

As always, we really welcome your comments and thoughts. Drop us a line, or visit the compliance and privacy site and register your thoughts.


Peter Andrews
Infosec 2006, Europe's number one dedicated Security Event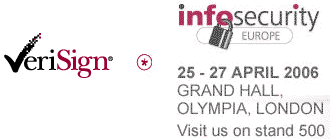 As VeriSign says, "If you are responsible for implementing, planning or managing information security, then this is the only event to justify your time out of the office." Make sure you visit VeriSign at Stand 500 and attend their regular presentation sessions.


We invite you to bring us your security issues:

Consumer Trust issues
Identity Theft and management
Protecting online Consumer Identities
Aligning Security with regulatory compliance
Phishing
Security Intelligence Requirements for Effective Risk Management
Security Risk Profiling
Firewall and VPN Management
Email, Spam Content Filtering and Security
Message Continuity and compliance
DNS Attacks

Witness practical solutions...
To arrange an appointment with VeriSign at Infosec, experience our security solutions or attend our Presentation sessions in the London room,
email us at: talk2us@verisign.co.uk
or call us on:

UK: 0800 032 2101
Germany: 0800 83 747 446
Italy: +39 02 69430155
Spain: 900 93 1298

We feature Influential Bloggers
The first of the Bloggers we're showcasing is Tim Callan. As his blog says, "Tim Callan is a product manager for VeriSign's SSL business unit. He is a longtime marketer of Internet and software solutions, a sometime entrepreneur, and a frequent writer and publisher of this and that. The opinions expressed in this blog are strictly his own."
Compliance and Privacy carries the top two or three paragraphs of the latest of Tim Callan's blogs, updated automatically, as they happen. Click a headline and you can jump directly to the article in his blog.

Quick Links...