| | |
| --- | --- |
| | in this issue |
Dear Visitor,

Welcome to this week's Compliance and Privacy News. It's been a busy couple of weeks since the last newsletter. In the UK we've had a statement from the Information Commissioner on E-mail marketing, from Ofcom on "silent calls" and further afield we've had HP forced to buy its own customer database to prevent it "falling into the wrong hands". Add to this the latest Internet Security Intelligence Briefing (ISIB) Report and you can see why you need to take a closer look at today's newsletter.

We welcome your comments and views – why not post your views on these articles on our website today via our new Discussion Groups? The link is at the bottom of this email.

For VeriSign customers there is a VeriSign MSS 3.0 Portal training session tomorrow. See below for details.


Peter Andrews
Wi-Fi Breaks Data Protection Law
Do you use Wi-fi? Whether you have installed in your company, offer a wi-fi hotspot service or simply use wi-fi to connect your laptop to the web while you're on the move, then you run the risk of breaking Data Protection laws. At least that's what the EU Information Commissioners believe. They are now looking long and hard at how well companies protect data and will be turning their attention to Wi-Fi.

Latest ISIB Report highlights VoIP risks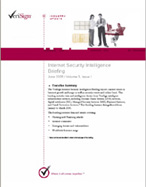 The VeriSign® Internet Security Intelligence Briefing reports current trends in Internet growth and usage as well as security events and online fraud. It includes intelligence drawn from a variety of VeriSign infrastructure services, including Domain Name System (DNS) services, digital certificates (SSL and PKI), Managed Security Services (MSS), Payment Services, and Fraud Protection Services. In this latest issue it looks at the security risks inherent in VoIP; reports on the latest adware and spyware trends and how older vulnerabilities are still exposing companies to attack.
Your free copy of the report is ready to download from the Compliance and Privacy site, compliments of VeriSign.

VeriSign MSS 3.0 Portal Training
If you use the VeriSign MSS service then you will want to attend the Customer Training session taking place on Tuesday 15th November, via WebEx. VeriSign migrated all MSS customers to the 3.0 version of the Customer Portal over the weekend. So, they will be providing a training session for customers on the new portal via WebEx on Tuesday, November 15th at 9 AM PST/ 5PM GMT. Details are below:
Topic: MSS 3.0 Portal Training Date: Tuesday, November 15, 2005 Time: 9:00 am, Pacific Standard Time (5pm GMT) Meeting number: 331 185 739 Meeting password: (This meeting does not require a password.)

Telemarketing and Privacy - Ofcom Acts on Silent Calls
Ofcom has finally announced that it will use its powers under the Communications Act (Sections 128-131 of the Communications Act 2003) to take action against persistent misusers of the network. And misuse now includes silent calls. (A silent call is one where an automated dialer initiates a call when there is no tele-operator available to handle the call, resulting in the phone ringing but the recipient of the call only hearing silence.) Until now companies were permitted a maximum of 5% of calls being "silent calls". Now that has been dropped to 3% and an "informative message" must be played. It is hoped that this change will slow the rate of TPS "opt-out" to telemarketing, currently at over 11 million numbers and growing at c. 30,000 daily!

Quick Links...